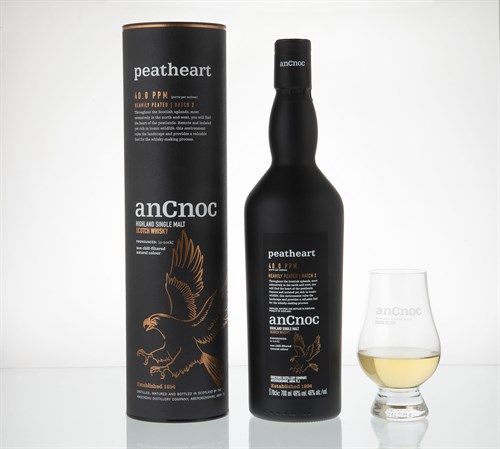 We're delighted to share that we are continuing our journey 'to the dark side' with the global release today (30th September 2020) of Peatheart Batch 2: the second consignment of our award-winning permanent peated expression.
After a limited release in Sweden, this second bottling will now be available to drinkers around the world, following the international success of Peatheart Batch 1 which was launched in 2017.
Batch 2 features the same smoky, mellow wood notes and phenol content as the batch 1 (40ppm) - but this time a more subtle smokiness is balanced with anCnoc's brighter, fruitier flavours.
Crafted at Knockdhu Distillery in the small village of Knock, by Huntly in Aberdeenshire, Peatheart uses peated barley in production to add a rich, smoky twist to anCnoc's classic new make spirit, before maturation in American Oak ex-bourbon barrels.
Presented in a dramatic opaque black bottle and tube, which glisten with touches of bronze and white, it is set to be a perfect gift for whisky fans over the Christmas and New Year season.
Knockdhu Distillery Manager Gordon Bruce explained that the new batch is true in flavour and character to the original, but with intriguing differences that will delight whisky lovers. He said:
'Despite having the same ppm as Batch 1, slight variations in maturation mean that our second Peatheart bottling offers something a little bit different, with a more refined smoky character. The combination of fresh, fruity anCnoc notes with these more mellow peat flavours creates a wonderful modern whisky that will be enjoyed by whisky fans across the spectrum. The peaty range now sits alongside our signature anCnoc whiskies to give drinkers two very distinctive sides to our whisky. Whether it's a dram from our 'dark' or 'light' side, both represent our commitment to using the best traditional techniques and craftsmanship to make a very modern single malt whisky'.
Peatheart Batch 2 is set to be in high demand following the critical acclaim achieved by Batch 1 - which included a coveted category gold medal at the World Whiskies Awards in 2019.
anCnoc Peatheart Batch 2 (40ppm) is bottled in 70cl at 46% ABV, non-chilled filtered and with natural colour. 1700 cases of the new batch will be available in the UK and for global markets, sold in independent and specialist retailers and whisky shops from 1st October, RRP £52.