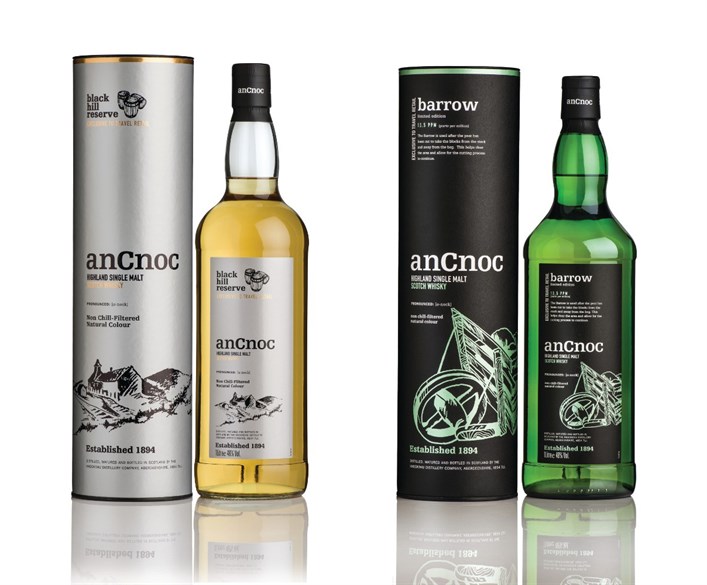 If you're anything like us you simply can't resist a peek into the whisky store at major airports you travel through. In the recent years the selection has increased exponentially, the service is second to none and the whole experience is further enhanced by the fact most of the expressions available in those places are in fact not available anywhere else.
At anCnoc we rather like the concept. Travelling is, for most of us, a little bit special and treating yourself to a special dram seems fitting. That's why we now have two travel retail exclusive expressions, both unmistakably anCnoc, both in keeping with our motto of 'Modern Tradition' and yet dramatically different. Sound interesting?
The first one is the Black Hill Reserve. Named after the Knock Hill where our water sources originate, and matured exclusively in American oak ex-bourbon cask for a clear view of the Knockdhu Distillery house style.
When nosing, at the very front, the honey and lemon heart reigns supreme. The honey note is sweet and concentrated, perhaps a touch darker than you would expect, intense. The lemon by contrast is crisp and light, not the sourness of lemon juice but rather the intense, oily fragrance of grated peel. Behind the core characteristics you will find ripe green apples and a deliciously creamy vanilla note accentuated by just a hint of Oriental spices and fresh ginger. Overall the aroma is clean and moreish with a strong, unmistakable Knockdhu fingerprint. On the palate there is sweetness and spice with the honey note still present and a tannic oaky complexity making a mark. The finish is delicate and ethereal. Summery and juicy.
While the Black Hill Reserve is undoubtedly the light, crisp side of anCnoc, there is also an altogether darker and more serious expression. Barrow.
Forming part of the incredibly successful Peaty Collection, Barrow boasts a phenol content of 13.5ppm. Also matured in ex-bourbon casks this curiously modern peaty whisky offers a striking combination of the bright house style of anCnoc, with its sweet and fruity heart, and an intense layer of peat smoke.
On the nose it is indeed the smoke that strikes first with a steady intensity of cold oak ash or perhaps the aroma of a sweater worn to the bonfire the night before. It's not choking or thick but in a way elegant and rounded, well balanced. Underneath the smoke the familiar notes of citrus fruit, perhaps lemon curd, and honey, this time light and sharp, reminiscent of set honey, are clearly present. Marzipan cake icing joins and fresh fragrant notes of sown wood complete the picture. On the palate the smoke intensifies. A memory turns into a very real, very present experience of rich and all-enveloping barbecue smoke. The background is hidden well but when it eventually appears it enchants with a complexity of burned sugar, tropical fruit and oaky intensity.
Both the Barrow and the Black Hill reserve are bottled at 46% ABV, presented at natural colour and non chill-filtered. They are available in 1 litre bottled at selected international airports and through other travel retail channels. So next time you're jetting off be on a lookout for these two stunning examples of anCnoc style available exclusively to those on the go.