If there was ever time to get out of your whisky comfort zone, it's now. The summer is treating most of us well and following a certain sporting event most of us are in top party form and in the mood for letting our hair down on a pretty regular basis.
In the spirit of keeping things light, summery and open-minded we sat down with a couple of drams of our flagship expression – anCnoc 12 Year Old – and tasted it in different guises, ranging from unadulterated to what some of you will consider outright blasphemous. Ready?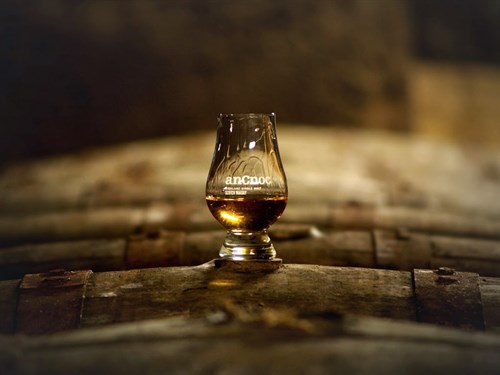 Simply anCnoc 12 Year Old
Never fails to give us a pause. It's seemingly light and fruity with that signature honey note and a top of citrus. But there is something darker, altogether more adult lurking in the shadows, an oily note which adds balance and makes the experience that little bit more refined.
With water
A splash of water. You may approach it with a precision tool and drop the two and a half drops you've been told work best but we tend to just pour a very small amount of water from a jug. Give it a swirl and watch the citrus transform. The lemon juice lightness grows muscles and a moustache and becomes a strong lemon zest presence with a purpose. The light fruity overtones are also elevated and oaky vanilla becomes sweeter and fresher. anCnoc likes water and water likes anCnoc.
With ice
We feel like adding ice has almost made a full circle of the coolness cycle. This pet hate of many whisky aficionados became so uncool over time that the inevitable happened and it's quietly making a bit of a comeback. Ever popular in the US, it now got to a stage where a bartender in Europe probably won't throw you out of the bar if you order your anCnoc on the rocks. And rightly so, whisky should be first and foremost enjoyed.
Adding ice to anCnoc 12 Year Old takes away the darker edge, smooths it down and isolates the crisp, citrusy notes. A lighter version of the dram, thinner on the nose, more refreshing on the palate and, in fact, not bad at all. Quintessentially relaxing.
Mixed
While we definitely recommend tasting anCnoc on its own, there is nothing wrong with using a quality spirit in a simple cocktail on a hot, sunny afternoon. Remember, quality in, quality out.
While we dabbled in more fancy cocktails in the past, for the summer season 2014 we'd suggest something so simple it's almost embarrassing. The difficulty level of our whisky mule is along the lines of boiling an egg but the effect is incredibly tasty, refreshing and moreish.
Fill a highball glass with ice, squeeze in half a fresh lime and add a couple of lime wedges for good measure. Add 50ml of anCnoc 12 Year Old, two splashes of aromatic bitters, give it a light stir and top the glass up with good quality, spicy ginger ale. Voilà.
#anCnoc12
We hope these options will help you explore anCnoc 12 Year Old this summer. Let us know what is your favourite way to serve whisky. Maybe you have a tested refreshing cocktail recipe you'd like to share? One great way to get in touch is to tweet us, just use the #anCnoc12 hashtag and help us spread the love.