Half and half is one of those traditions so deeply ingrained in our collective memory but so rarely seen in the wild these days that you would be forgiven for thinking it has been forgotten.
The cheeky little habit of ordering a half pint of bitter ale alongside a half gill of whisky is ancient and entirely in tune with how a Scot may choose to enjoy a drink down the pub (remember those?) on a Friday night. And as with so many great traditions, perfected and polished over time, there is more to it than meets the eye. The subtle embrace of a creamy 80 Shilling at just the right temperature punctuated by a snappy, brilliant blend is as intuitive and natural to some as lemon juice on fish. But, as ever, it all depends on the context. A beer and a shot in an American bar will likely consist of a lager or an IPA paired with a Bourbon. To be honest, we're big fans of that too.

Whisky and beer are natural friends. Allies. Siblings, even. One can complement the other; both can make one another sing. And the order itself is the most glorious thing, if you've never tried it, you should. Oh, the sense of occasion! The knowing look from the bartender when your pairing is clever. Two glasses arriving in your hands, instead of one, creating a talking point and putting smiles on people's faces. You get a long drink and a whisky in one neat serve. And if you opt for a half-pint of beer and a standard measure of spirit, the two components are approximately one UK standard unit of alcohol each which makes it very easy to watch your intake.

A word on the boilermaker perhaps. Here in Scotland, younger people will typically associate this term with a whisky and a chaser of beer. But our friends in North America may use it to describe a shot of whisky dropped into a beer or simply poured straight in. To be clear, we're excited about pairing whisky and beer but mixing the two is not our jam. Frankly, if you'd ask for a depth charge at a bar in Huntly, they'd probably ask you to go.
Some tips (although trial and error is still king)
Now that we've established that a small beer and a glass of whisky is most definitely a good idea let's look a bit closer at the subtle art of bringing the two together. As a rule of thumb, we'd point three paths that can be taken to get that sweet spot.`
Contrast
This is probably the easiest way to achieve successful pairings, whether it's whisky and beer of, say, food and wine. You pick the dominant characteristics of the two components and attempt to contrast them against one another. For example, we may choose to pair our anCnoc 12-Year-Old with a gentle pale age. The citrus and perfume of the whisky will dance playfully against the malty, mellow backdrop of the beer. If you've never tried pairing beer and whisky, this is an excellent place to start.
Match
Matching flavours, although more intuitive and obvious, tends to be the more difficult route. Looking at pronounced flavour characteristics of the two drinks, you're looking for a pair which shares them closely enough to be able to amplify one another. For our anCnoc 12 Years Old we have found some beautiful hoppy IPAs which are on a similar wavelength. For the 18-year-old, we've been successful with some stouts and even krieks – while the flavours will never align perfectly, the general tonality can be closely matched.
Wild card
If matching and contrasting sound a bit too prescribed, don't worry. In our extensive research, we have found plenty of pairings which work just because they do. On paper, they shouldn't, in practice they do. Our anCnoc Peatheart Batch 2 found an unlikely friend in a cloyingly sweet imperial stout.

How we got on
So much for theory, we're bursting to share some experimental findings with you. In the next few weeks we'll be talking about pairing our whiskies with beer quite a lot, we have some live events coming, and you're likely to catch some of this on your social media. As such, we had to do our homework. We've decided to try a range of beers, mostly Scottish but some from further afield too, to showcase the incredible range of possibilities and the versatility of this concept. In the end, we've boiled this down to two beers per whisky. All of the beers we tried were sourced from our friends at the Good Spirits Co in Glasgow but depending where you are you may be able to get them from your local specialist or, definitely, online.
anCnoc 12 Years Old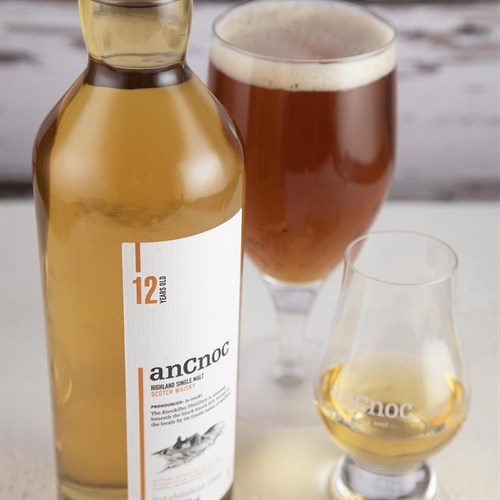 The ultimate crowd-pleaser, the perfect expression of Knockdhu. Gentle yet complex. Subtle, but will stop you in your tracks. anCnoc 12 Years Old has proven itself once again to be versatile and delicious, whatever the occasion. This was hands down the easiest whisky to pair, and the results are stunning, even if we say so.
Overtone vs Brewgooder: All Together Now (6% ABV)
Brewed to a basic recipe by Other Half Brewing and launched in collaboration with the excellent people at Brewgooder, this is not just a spine-tinglingly good NEIPA but a beer which does its bit for colleagues in the hospitality sector affected by the current situation. We found it juicy, resinous, piney and tropical and thought it bounced off anCnoc 12 Years Old very well. By contrast to the beer, the whisky came across grown-up and biscuity, with that creamy vanilla you'd expect from our wood policy and a flourish of citrus at the top.
Deadend x Overtone: Entitled Barrel (8.5% ABV)
This is a very serious beer, and it really cast a spell on us. An exceptional Saison brewed with Scottish heather honey and aged in an ex-Armagnac cask. The wild fruitiness of it reminded us of our fermenting wash. The honey in the beer comes through in just the right balance and talks to the honey, and caramelised notes anCnoc is known for. The full, waxy palate is not unlike that of our 12 Years Old. But the general delivery and reception of it are what makes this such an incredible pairing for anCnoc, despite its complexity and body it's subtle and elegant, understated almost. This may be as close a pairing for anCnoc 12 Years Old as we're likely to find.
anCnoc 18 Years Old
Big, bold, unapologetically lush and surprisingly fun. The 18 Years Old is anCnoc through and through but with a significant Spanish oak influence lending it the unmistakable sherry cask muscle.
Verhaeghe: Duchesse de Burgogne (6.2% ABV)
This is a well-loved Flemish Red, and you may already be familiar with it. It takes on a uniquely wild character as it matures in oak casks, turning it from a goody-goody Belgian ale into something altogether more sinister. It divided our panel too! What's cherry-like goodness to some, came across balsamic vinegar-esque to others. One thing is for sure, it had colossal charisma, and it stands up to anCnoc 18-Years-Old. The acidity aside, the general ambience of it is quite similar, with big macerated stone fruit, dried fruits and a pronounced tannic backbone. This is not a pairing for the faint-hearted, but it'll prove a hit for some.
Overtone: Wake Up! (7.5% ABV)
A coffee stout like no other. Columbian coffee is cold brewed right in the fermenter before brewing this beast. Coffee flavour is, naturally, pronounced but creamy toffee, enticing fresh chilli peppers fragrance and notes of ash make it a bit of a rollercoaster ride. It's immense. anCnoc 18 Years Old, by contrast, brings dried fruit and oily citrus into the pairing. The two agree on chocolate but shine individually at the top end. It takes every little bit of the 18-year-old's power and intensity to stand up to the beer and stand up it does. Slightly higher ABV at 46% helps too. A winter wonderland of flavours, with decadence and irreverence, sprinkled over for good measure.
anCnoc Peatheart, Batch 2
Our peaty flagship hopefully needs no introduction. The use of Highland peat makes this smoky expression from Knockdhu cleaner, and more approachable than West Coast counterparts and the wood smoke and typical anCnoc citrusy top end are beyond mouth-watering.
DEYA Brewing: Go Back For More Tokens (6.2% ABV)
This delicious little IPA from England is brewed with lemon zest, orange zest and yuzu juice. That means it's fruity and then some. A happy beer if we ever tasted one. On top of that, it's aromatic, slightly more sour than we expected and the layer of hops has something reminiscent of delicate green tea about it. Enter stage left the villain. We really enjoyed the way anCnoc Peatheart spoils this party while remaining vaguely respectful of the high fruity fragrances. Peat and fruit is not an easy combination so you should celebrate it when it works.
Basqueland: Bonkers (12%)
They classified this as Salted Caramel Brownie Imperial Pastry Stout. And they won our hearts right there and then. How often do you get to say words "imperial" and "brownie" in one sentence? The name of the beer says it all. It's tooth-dissolving sweet, think sweetened cough medicine with five sugars but sweeter. The caramel and chocolate flavours feign supreme and deliver a liquid dessert of a beer. You may have to use paint thinner to clean your glass afterwards, but it's worth it. anCnoc Peatheart is not here to spoil the party, funnily enough, but to add a phenolic punch. Either a terrible mistake or once-in-a-generation pairing masterstroke.